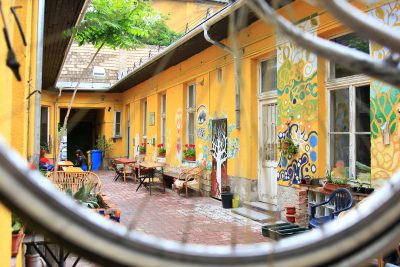 The Stop Group Foundation was established based on a citizens' initiative in 1997. The institution's profile was initially defined by the people who followed their values and devotion, who consider themselves rehabilitated abstainers, and set example for others, or people affected by alcoholism or drug addiction for their relatives or co-workers.
In the course of years, the Foundation has also integrated into the public life of Józsefváros and has created a rich system of relationships with institutions of a similar profile. This fact was acknowledged by the Honorary Diploma "The Civil Organization of the Year" awarded by the NIOK Foundation (National Innovation Education Centre) in 2007.
Stop Group Foundation for drug addicts is a member of the Hungarian Association of Drug and Other Addiction Prevention Organizations as well as a supporting member of the Hungarian Addictology Society. We are a member of the European Federation for Street Children (EFSC) and EURO TC (European Treatment Centre for Drug Addiction). In addition to our participation in international and national networks, we also play an active role in initiatives organized by local communities. We are members of the District Coordination Forum for Drug Issues (KEF) and a Roundtable for social policy.
In the Open Door program, we offer low-threshold care (an average of 450 people / year). People coming to the Megálló are welcomed by employees in the service who provide them help through information, conversation, attention and care. We are social institution working in an integrated format, providing day care and community care for addicts (the number of clients: 50 + 40 people).
In the framework of a special study program for preparation and re-integration, young people who have not finished school because of their drug problem (number of clients – students, 35 persons at maximum) can study and pass the school-leaving exam in cooperation with the Belvárosi Tanoda Alapítványi Gimnázium and Zöld Kakas Líceum. We run a development and training program for 5 individuals.
Every week we organize group therapy for self-discovery, theatre and music therapy groups, family groups, sports activities (table tennis, football, climbing) and we regularly participate in local and international football tournaments.
We also provide preventive services for schools and institutions dedicated to childcare (our school education certificate number: 11/2017, the title of our school health promotion program: "Young and Responsible").
In our Foundation, preventive information services (attention diversion) are also available (164 people participated in 2015); and above that, in cooperation with the Support Supervisory Office of the Budapest Office of Justice, the Megálló Foundation accepts also individuals carrying out community works.