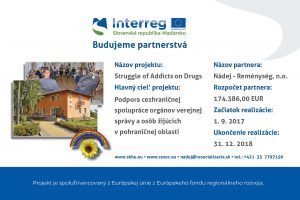 The nativity of our project "Struggle of Addicts on Drugs"(code: SKHU/1601/4.1/348) is the result of a joint mission of two project partners, whose main objective was re-integration of addicted people into society. The most accessible cooperation of the many-year relationship of two partner organizations is this cross-border project to be implemented from September 1, 2017 to December 31, 2018, i.e. for 16 months.
The project is implemented in the framework of the Interreg V-A Slovakia – Hungary Cooperation Program, where 85% of the funds will be provided from the European Regional Development Fund, 10% from the support of the Slovak and Hungarian governments and 5% from the project partners themselves. The total budget of the project is 265,037.00 EUR, of which the Slovak partner will finance 174,386 EUR and the Hungarian partner 90,651.00 EUR.
The main objective of the project is to affirm the eligibility of therapeutic methods used, which is justified by the fact that re-integration of addicted people requires providing not only the health care, but also a personal development and creation of a new way of life that can be achieved by therapeutic methods. Other objectives include improving cooperation in this specialized field, developing therapeutic infrastructure and reducing the overload our volunteers.
A series of activities begins with the study trip of partners' experts and continues with the exchange of experience between clients in Veľké Kosihy in the Nádej and in Budapest in the Megálló. A film on comprehensive workshops presenting therapeutic methods will be produced based on a continuous film making.
The duration of the project is accompanied by a training program consisting of 8 courses: cooking classes, English, Slovak and Hungarian language courses, legal and entrepreneurial knowledge course, self-discovery and personality development, conflict management, rural work and office assistants training.
The preventive campaign will include the lectures on drug prevention at elementary and secondary schools, at juvenile detention centres and for the professionals involved in the process (social workers, pedagogues, psychologists, psychiatrists, doctors and theologists) we will organize professional roundtables.
As for the budget, the most important activities of the project are renovation investments: the reconstruction of a large old boiler room into a multifunctional sports and reconditioning centre, which will serve sport, therapeutic and professional purposes.
These activities will support inter-institutional cooperation between the Nádej – Reménység, n.o. working in the rural environment and the metropolitan Stop Group Foundation, and it will strengthen their joint mission as well as the widest possible public reach.